This sign indicates the way to Fiera Milano (convention and exhibition venue) and San Siro district (known mainly for football and horse racing).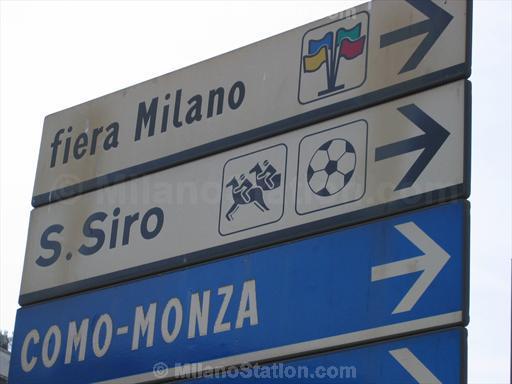 Both Fiera Milano and San Siro are located west of Milano city centre, Fiera Milano (City) a bit closer than San Siro.
Fiera Milano
There are in fact two places which can be called Fiera Milano.
One is Fiera Milano City, the old convention and exhibition centre between Piazza 6 Febbraio and Piazzale Arduino. This convention centre is relatively close to Milan city centre. The nearest metro stations are Amendola Fiera and Lotto Fiera, both on metro line M1 (the branch to Rho).
The other place known as Fiera di Milano is located Rho, a town north-west of Milan and the terminus of metro line M1. The Fiera in Rho is newer and larger than Fiera Milano City.
San Siro
When foreigners hear San Siro they often recall the football stadium of AC Milan and Inter Milan.
In fact, the name of the stadium is Stadio Giuseppe Meazza (after a footballer who played for both the teams during different times of his career and helped Italy win two consecutive World Cup titles in 1934 and 1938).
San Siro is the name of the entire district where Meazza Stadium is located.
Horse Racing
Besides football, San Siro is known as world-class horse racing venue. Ippodromo di San Siro is located next to Meazza Football Stadium.
Getting There
The nearest metro station is Lotto Fiera. San Siro is to the west of the station, while Fiera Milano City is in the east.
More