Piazza della Scala is the square in front of La Scala Opera House (Teatro alla Scala) in the middle of Milan Old Town. Besides the opera house, there are several other very important buildings at Piazza Scala: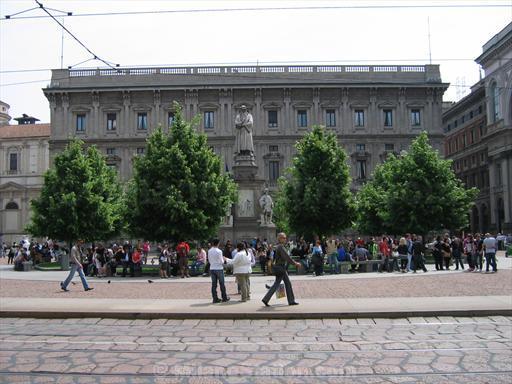 Streets near Piazza della Scala include Via Alessandro Manzoni, Via Giuseppe Verdi, Via Case Rotte, Via Filodrammatici, and Via Santa Margherita.
See more details about the location and hotels near La Scala in Milan.
Leonardo da Vinci Monument
There's no need to introduce Leonardo da Vinci, the genius of the Renaissance Age, whose presence you can feel in various places in Milan and in most other big Italian cities.
His monument at Piazza della Scala was designed by Pietro Magni, Italian sculptor who created his works in the 19th century. Besides Leonardo da Vinci Monument he is the author of some of the statues on the nearby Milan Cathedral.
More