Galleria Vittorio Emanuele II (named after Italian King Victor Emmanuel II) is a shopping arcade – a gallery of brand stores, exclusive restaurants, and 5 star hotels. Even if you are not much into luxury shopping and dining, Galleria Vittorio Emanuele is definitely worth seeing. It is a complex of beautifully decorated historical buildings and occupies the prime location between Piazza del Duomo (the square with Milano Cathedral) and Piazza della Scala (the square with La Scala Opera).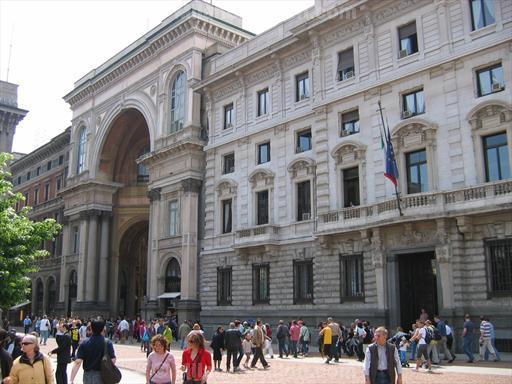 Piazza della Scala
The above photo shows the entrance to Galleria Vittorio Emanuele II from the La Scala side. Piazza della Scala is a popular tourist destination in Milano city centre. There are several interesting buildings at Piazza delle Scala: besides the already mentioned La Scala Opera House and Galleria Vittorio Emanuele there is also Palazzo Marino – Milano City Hall – and the palace of Banca Commerciale Italiana. In the middle of Piazza della Scala there is the momument of Leonardo da Vinci, designed by Pietro Magni.
Getting to Galleria Vittorio Emanuele and La Scala
Metro stations closest to Galleria Vittorio Emanuele II and Piazza della Scala are Duomo (right at Piazza del Duomo; interchange of lines M1 and M3) and Dante Cordusio (at Piazza Cordusio; metro line M1). There are also trams at Piazza della Scala – the tram stop names are S. Margherita Scala and Manzoni Scala.
More