The Cathedral in Milan and the seat of the Archbishop of Milan is commonly referred to as Duomo by the locals (and the tourists get quickly used to this name too, because it's so simple).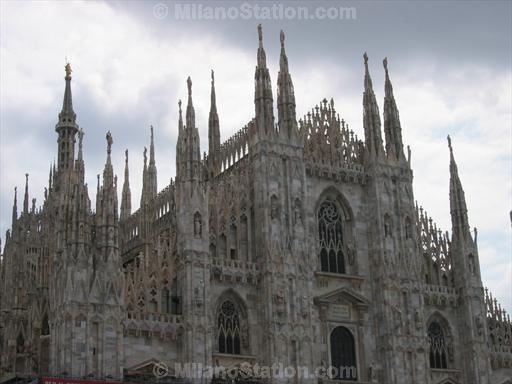 Milan Duomo has characteristic looks. It is very large, but thanks to its unusually bright facade and thousand of spires at the top it feels very light.
The Duomo is Everywhere in Milan
It is probably impossible to visit Milan and totally avoid either seeing the Duomo itself, or at least a picture or a sign mentioning it. The Duomo is literally the dominant feature of Milan (besides the San Siro stadium, which is a kind of "Duomo" for football fans).
Piazza del Duomo in Milano
Milan Duomo is located in the very centre of the city at the square named (of course) Piazza del Duomo, The Duomo Square. Piazza del Duomo is an important public transport hub with two metro lines and several tram lines.
Many of the most popular tourist sights of Milan are located in close proximity to the Duomo. For tourists the Duomo is a perfect place to start the tour of Milan.
More