Via Vittor Pisani is the street between two of Milan's large squares, Piazza Duca d'Aosta and Piazza della Repubblica. It is about 600 metres long, slightly downward sloping from Aosta to Repubblica, and very wide. Via Vittor Pisani is one section of the typical walk between Milan Central Train Station and the historical city centre. This picture shows Via Vittor Pisani from Piazza Duca d'Aosta.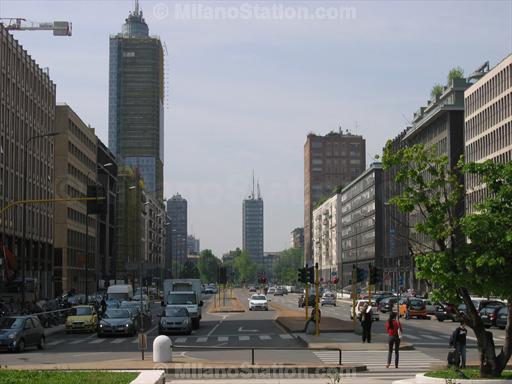 Piazza Duca d'Aosta
Piazza Duca d'Aosta means Duke of Aosta Square. Aosta is a small region in Italy, near the French and Swiss border. The square is mostly known as the location of Milan Central Station and Pirelli Skyscraper. Aosta Square is slightly outside the historical city centre, but very popular with tourists. There are many hotels near Piazza Duca d'Aosta and Milan Central Station.
Getting There
There are metro stations on both ends of Via Vittor Pisani. The station at Piazza Duca d'Aosta is Centrale F. S. and the station at Piazza della Repubblica is Repubblica.
There are no trams in Via Vittor Pisani, but several tram lines go through Via Fabio Filzi, a street parallel to Pisani on the Pirelli skyscraper side.
More