Palazzo Marino is a palace in Milano city centre, named after Tommaso Marino, a banker and trader from Genoa, who was the first owner of the palace in the 16th century. Palazzo Marino is situated between Piazza della Scala and Piazza San Fedele. The streets connecting the two piazzas, each on one side of Palazzo Marino, are Via Case Rotte and Via Tommaso Marino.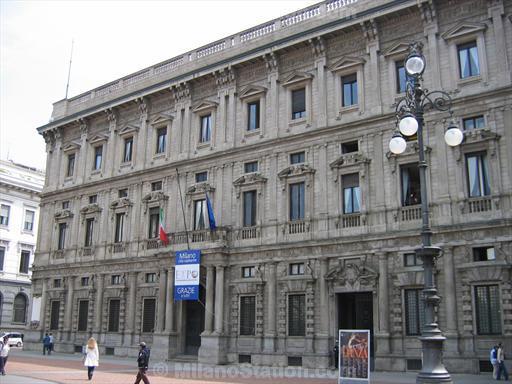 Palazzo Marino as Milan City Hall
Since 1781 Palazzo Marino has been owned by the state. On 9 September 1861 it became the City Hall of Milano and it has served this function till these days. The current looks of Piazza della Scala side of Palazzo Marino is from the second half of the 19th century. Before that time, there was another block of buildings which occupied today's Piazza della Scala. The buildings were demolished to create the Piazza.
Luca Beltrami
The facade of Palazzo Marino facing La Scala was designed by Luca Beltrami, the architect behind many other monuments and landmarks in Milan (and particularly some of the major restoration projects – besides Palazzo Marino and Piazza della Scala also e.g. Castello Sforzesco).
Other Buildings at Piazza della Scala
At Piazza della Scala, Palazzo Marino is on the opposite side from La Scala Theatre.
There is Galleria Vittorio Emanuele II on the right and Banca Commerciale Italiana on the left.
More