Via Giovanni Battista Pirelli is the street that runs diagonally from Piazza Duca d'Aosta to Gioia Metro Station at Via Melchiorre Gioia.
There are two of Milan's landmark skyscrapers, one on each end of Via G. B. Pirelli: the older Pirelli Tower and the newer Palazzo Lombardia.
This sign (the typical street sign design in Milan) is on the Piazza Duca d'Aosta side: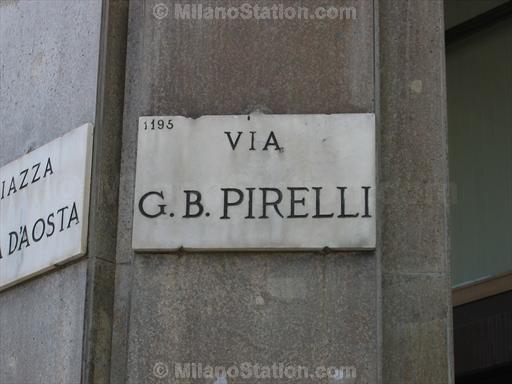 Giovanni Battista Pirelli
The street is named after Giovanni Battista Pirelli, Italian industrialist who founded Pirelli, one of Milan's best known companies, in 1872.
What Pirelli, aged 23 then, started as a small rubber company has evolved into one of the world's largest tyre manufacturer and a big multinational corporation with diverse scale of products and industries. Pirelli & C. SpA shares are listed on Milan Stock Exchange (the ticker symbol is PC).
Getting to Via G. B. Pirelli
There is a metro station on each end of Via G. B. Pirelli.
At Piazza Duca d'Aosta there is Centrale, the interchange of lines M2 and M3 and the Central Train Station of Milan.
On the other end there is the already mentioned Gioia Station (metro line M2).
There are also trams crossing Via Pirelli behind Pirelli Skyscraper. The tram stop names are Filzi Pirelli and Filzi Zezon.
More