Welcome to Milano!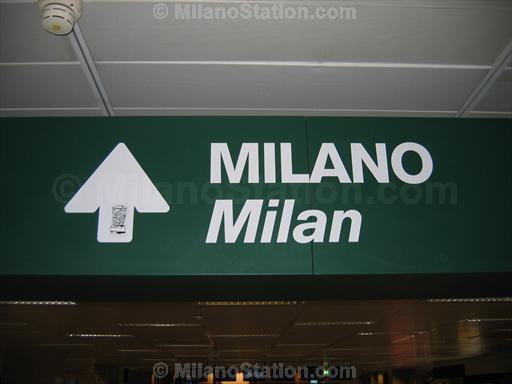 You can see this sign after disembarking an aircraft at Milan Malpensa Airport. Maybe it's there for passengers who are not sure which city they have just arrived in. For the others, it is a good symbolic first photo they can take when visiting Milan.
Milan Malpensa Airport
Malpensa is the largest airport near Milan and currently the one used for most long haul flights. The IATA code for Milano Malpensa is MXP. The airport is located near Gallarate, a small town north-west of Milano next to the highway A8 to Varese and Lago Maggiore.
There are trains and buses between Malpensa Airport and Milan Central Station. Here you can see more details about the location, transfers, and hotels near Milan Malpensa Airport.
Other Airports near Milan
There are two other airports serving Milan. Linate Airport (Airport Enrico Forlanini; LIN) is the former main international airport of Milan. It is located very close to the city near Peschiera Borromeo, a suburb of Milan in the east.
Some low-cost airlines use also the nearby Bergamo Airport (Orio al Serio, BGY). Bergamo is a city of about 120,000 inhabitants, 50km from Milan to the north-east.
More