Milano Centrale is the largest and most important railway station in Milan. It is also a good point of orientation, as it's hard to overlook once you are close. Centrale Station building dominates Piazza Duca d'Aosta, a large square at the intersection of Via Luigi Galvani, Via Vittor Pisani, and Via Vitruvio.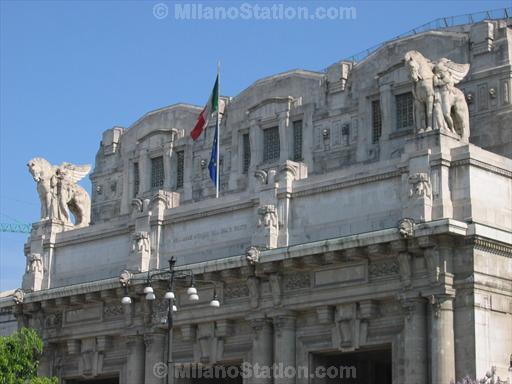 The strees near Milano Centrale form a very popular hotel district. Here you can see more information about hotels near Milano Centrale.
Milano Centrale Building
In 1906, King Vittorio Emmanuele III laid the cornerstone of the current train station building, but it took several years for the actual construction to begin. The progress of the works was further complicated in subsequent years, especially by the economic crisis that struck Italy after World War I. The project also underwent several changes and eventually Centrale Station became much bigger and more magnificent that originally planned. Its front facade is over 200 metres wide and the vault is 72 metres high.
Milano Centrale Station was opened in 1931, in the middle of Mussolini's fascist era. Those days are long gone and today there is Italian flag together with EU flag on the top of Milano Centrale building.
In the recent years, the train station building underwent an extensive renovation. Here you can see another picture of Milano Centrale building.
Trains and Metro at Centrale
Centrale Station serves mainly long distance and high speed trains. There is also a metro station – Centrale F.S. (Ferrovie dello Stato) – under the railway station and Piazza Duca d'Aosta. Metro lines 2 and 3 intersect at Centrale.
More